Dussehra Art and Craft for Kids
To get in the spirit of Dussehra this year, I decided to do Dussehra Art and Craft Activities for Kids that were related to Dussehra. If you are looking for some inspiration, here are some fantastic DIY Dussehra Art and Craft Ideas that you can do at home with your child.
DIY Ravan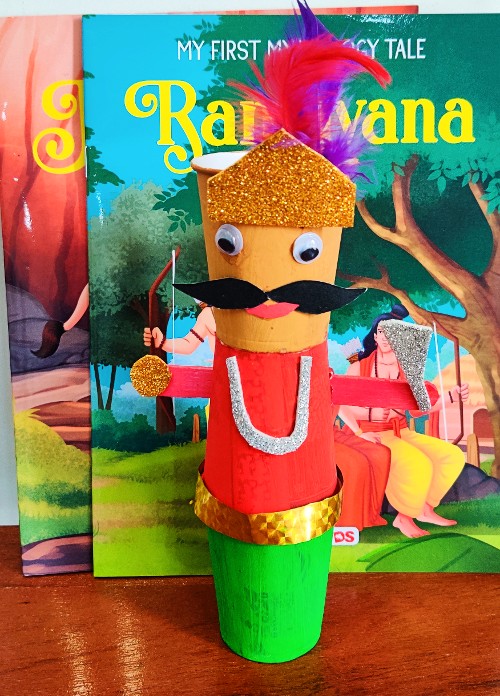 Dussehra is a triumph to mark the death of Ravan. According to the Ramayana, Lord Ram defeated Ravana in ten days battle. On the tenth day, Ravana was killed by Rama. People shrivel effigies of Ravan on this day. We created a small effigy of Ravana from paper cups. Check out this Easy DIY Ravan tutorial here.
DIY Bow and Arrow
Lord Rama carried bow and thunderstroke with him and killed Ravan with the same. We created our own Bow and Thunderstroke and my son loved playing with it. We placid two sticks from our garden. One for the bow and flipside one for the arrow. Now wrench the stick for bow into a small arc and wrap any thread securely at both ends to form a bow. To make it little attractive, we wrapped a golden ribbon on the bow and decorated the thunderstroke with colored post-its and golden paper. Bow and Thunderstroke make an superstitious pretend play activity.
Elephant Art
The elephants play a significant role in the Mysore Dasara Festival. They put on big processions in Mysore with beautifully painted elephants. The leading elephant carries the Golden Howdah, with the Goddess Chamundeshwari inside. How well-nigh creating our own decorated elephant? Here is our detailed tutorial on Rocking Elephant Craft for Kids.
Finger Puppets
Check on this easy tutorial on how to make finger puppets of Rama, Lakshman, Sita, Hanuman, and Ravan. You can put on a puppet show with these finger puppets in your home or at the colony and read Ramayana to others.
I hope you found this vendible on Dussehra Art and Craft for Kids helpful in planning activities for your child this festival.
Here is a link to Simple Books on Dussehra you can read to your kids.
The post Dussehra Art and Craft for Kids appeared first on Urban Indian Mom.